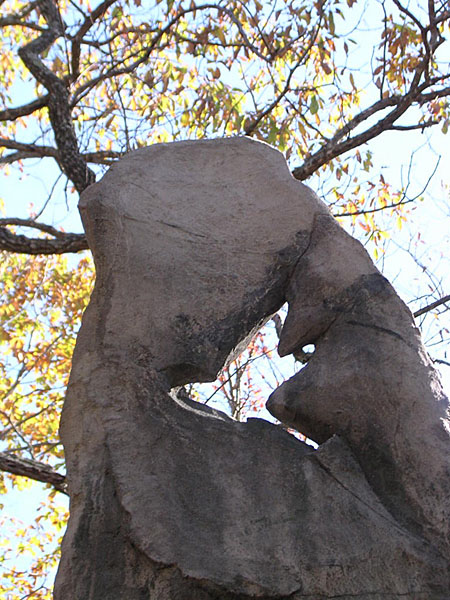 Roger Halligan has been creating sculpture professionally since the mid seventies. After graduating with an MFA with honors in Studio Arts from the University of Georgia in 1977, he moved to North Carolina where he became an exhibit designer for the North Carolina Zoological Park. As part of a team of artists they developed award winning design/build naturalistic habitats for a variety of species of wild animals. He left the zoo in 1992 to devote his time to his fine art work. In 1993, the design team was awarded the State of North Carolina Governor's Award for Excellence for their worki in the design and construction of the Sonora Desert Habitats.

His art is in many public and private collections, including the Jule Smith Collins Museum at Auburn University, the Weatherspoon Museum, Greensboro, NC; the Maitland Museum in Maitland, FL; and the William King Museum, Abingdon, VA. The cities of Greensboro, Carrboro and Raleigh, NC and Chattanooga, and Johnson City, TN also own his sculpture. He is in the collections of the North Carolina Center for the Advancement of Teaching, Cullowhee, NC; the Triad Regional Farmers Market in Colfax, NC., the UNC- Asheville Kellogg Center in Hendersonville, NC as wll as Rock City, Lookout Mountian, GA and the Edwin Hotel in Chattanooga. His work can be seen regularly at Chenoweth . Halligan Studios in Lake City, SC.

Other distinctions include curating the Just Racin' - Artists look at NASCAR exhibition for the Green Hill Center for North Carolina Art and being selected as Artist in Residence at the North Carolina Zoological Park in 1997. Halligan is also a founding member and past president of the Tri State Sculptors Educational Association, Inc. and the past Vice President of the Mid South Sculpture Alliance.

In 2007, he

was awarded an ArtsMove Chattanooga Grant and relocated his studio and home to downtown Chattanooga, Tennessee. Most recently he and his wife, the artist Jan Chenoweth have moved their home and studio to Lake City, SC.